Getting Started
The JitterLabs web application (i.e. the application, or "app") is our primary vehicle for providing web services. If you haven't done so already, you might want to read the How It Works page first to get an overview of our packaged test service before starting the registration process described below.
As shown in the figure below, people using the application are classified as users, members, and Administrators. Additionally, the application is divided into three separate consoles, each with its own access permissions.
The first person from a company registering with the application must also register a new organization for his or her company. The name chosen for this organization must reflect the employer's name, and, for companies with more than about 50 people, a business unit (e.g. department, division, or other profit/loss center) in the company. Splitting the registration of a large company into several smaller organizations provides ease-of-maintenance, and offers the most flexibility to control which external users may access items owned by each organization (e.g. reports, specifications, functions).
To register, simply click the Start button above. When the app opens, click the "Need to Register?" button, then follow instructions to register. The result of this process is (1) a newly registered organization, and (2) the user is automatically enrolled as the first member and Administrator for this organization. After a first organization is registered for a company, people from this same company who then register with the application may register, when appropriate, a second, or third, etc., organization for the company, where each organization represents a different business unit in the same company.
Once an organization is registered, future people registering with that organization's e-mail domain name are considered "users" and enter the Registered-user Console after logging in. Here, they can edit or delete their user account, and view information about existing organizations they can request to join, including a list of Administrators for each organization. The user must then contact one or more of these Administrators, who are co-workers in their company, to request joining an organization. Once an Administrator enrolls a user in an organization, the user becomes a "member" of that organization. The next time the user logs into the application, the application opens to the Member Console, which provides all of the (non-administrative) functionality of the application.
Administrators can also enroll members as Administrators. Only Administrators have access to an Administrator Console, which allows them to manage all aspects of their organization related to the web service.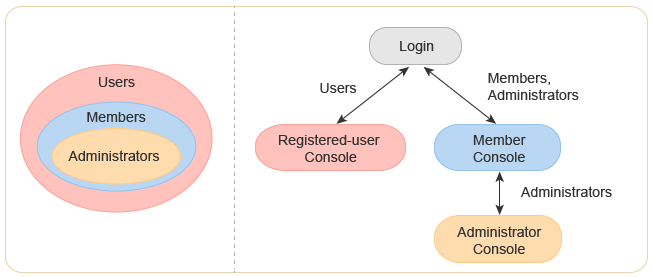 (Left) Administrators are a subset of members, who are a subset of users. (Right) The application is divided into three separate consoles, which limit access to their intended audience.