Timing Device Vendors
Frequency Control • RF/Microwave • Integrated Circuits • Test Equipment
Win customers with (the right) data.
Build trust with an online catalog showcasing your products' performance, based on independent test and analysis. Wow customers by showing compliance to their unique specifications. Create marketing collateral that grabs your customer's attention. Gain exposure to your target audience online. Provide customers the data they need before they ask for it. Generate and close sales leads by turning customer service into a competitive advantage.
What can I do with the JitterLabs app?
Build an online catalog of Test Reports to showcase product performance.
Advertise Test Reports to your target audience.
Review the specifications library to learn market requirements.
Prove your products comply with customer specifications.
Share Test Reports and/or results with clock-dependent device vendors to get placed on their AVLs.
Export PDF reports as marketing collateral to generate (and close) sales leads.
Review customer specifications to define new products.
Streamline customer support activities with easy access to the data you need, when you need it.
Protect your content by configuring security features, such as blacklisting your competitors.
And more...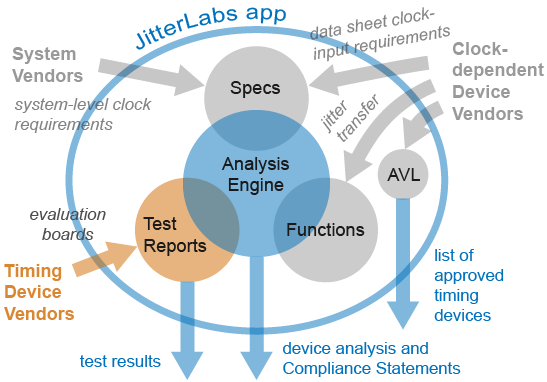 Key Benefits

Create an online catalog of Test Reports that you can access anywhere from a browser.

Boost productivity by centralizing your data in the cloud with easy access for all. Plus, enjoy data management, data analysis, report generation, and sharing capabilities. It's your data, we just help you get the most out of it.

Build trust with customers by sharing comprehensive independent Test Reports showcasing your products' performance over a wide range of applications.

Streamline operations. Send customers test results, instead of evaluation boards, and save time and money in the process by creating and managing fewer boards. They'll thank you for the rapid response, plus the ability to analyze your data for their systems using the JitterLabs app.

Create marketing collateral by exporting test results as PDF reports, or share results directly online.

Use as a support tool for customers. Avoid spinning customers through support cycles by answering questions in the field or factory the moment they occur. Or, empower customers to answer their own questions by sharing your content with them.

Gain exposure to new and existing customers in our online community. Advertise Test Reports to prospective customers, and communicate with your target audience online.

Prove compliance to customer requirements. Draw from a library of customer functions and specifications to analyze your products in their intended end applications. Speak to your customer's requirements directly, instead of generic 12 kHz to 20 MHz talking points. Export offical Compliance Statements as PDF documents, or share results directly online.

Future-proof your test data. Test Reports created today can be evaluated to customer specifications created tomorrow (without going back in the lab).

Safeguard your content. In case someone in your organization makes an error in judgement, we built in processes to doubly ensure your content (functions, specifications, Test Reports, etc.) does not end up in the wrong hands. This includes periodic email authentications, login timers, and blacklists for email addresses and domain names.

Free up resources by outsourcing support. If your customers have questions about our service or data, we're happy to provide them free support, even if they are not our customers.

Reduce cost by outsourcing testing to a trusted independent lab. Lower capital expenditures, increase efficiencies, and focus on your core business.
Apply specifications to determine compliance
Specifications written by the community are stored in a Specification Library. When you create a specification, your organization owns it, and can share share it (or not) with other organizations that you choose. Sharing a specification is a great way to establish technical leadership in the community. Many clock/timing specifications already exist for various products and industry standards, including the following from JitterLabs.
---
100GBASE-KR4/CR4/KP4/LR4/ER4/CR10/SR10
40GBASE-CR4/SR4/FR/KR4/LR4/SR4
10GBASE-CX4/DR/KX4/LRM/LX4/PR/PRX/SR/LR/ER/SW/LW/EW/T
1000BASE-KX/PX/BX10/LX10
100BASE-BX10/LX10
XLAUI/CAUI/XAUI
XLPPI/CPPI/nPPI
IEEE 802.1AS-2011
FC-PI-6 (32G/128G)
FC-PI-5 (4G/8G/16G)
SFF-8431 (SFP+)
INF-8077i (XFP)
CEI-28G-SR/MR/VSR
CEI-25G-LR
CEI-11G-SR/MR/LR
CEI-6G-SR/LR
Stratix V
Cyclone V
Arria 10
Virtex UltraScale/UltraScale+
Kintex UltraScale/UltraScale+
SONET (OC-48/192/768)
USB 3.1
SMPTE (259M/292M/424M)
DVB-S2X (DTH/VSAT)
DOCSIS 3.1
IESS (308/309)
AES-12id-r2011
JESD204B (SxI5/6G/11G)
...
---
Applying an existing specification to Test Reports to determine compliance is an easy way to compare device performance, apples-to-apples. Want to change the tests or limits in a specification? Feel free to copy and modify any publicly shared specification owned by JitterLabs. For other organizations, you just need to obtain their permission first.
Oh, and a function library exists as well, with all the same features.
Send results, not boards
Why send evaluation boards to dozens of customers for them to perform the same measurements?
Thoroughly characterize your parts once at an independent lab, and send them test results instead. They'll find what they need quickly, while your competitors spend weeks preparing boards or data.
Better yet, jump to the front of the line by sharing your Test Reports with them before they ask, so they're available whenever a need arises.
Your customers will thank you, and you'll save time and money by managing fewer boards.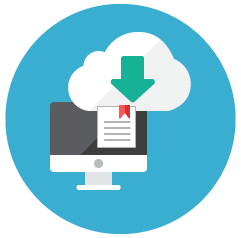 Launch products with Test Reports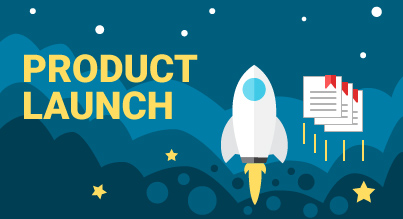 Have Test Reports available when you launch a product to give them the longest life.
For product families that cover a range of frequencies, we recommend supporting their full range by creating a report every 10 or 20 MHz. For example, a product covering 40 MHz to 400 MHz would have reports every 10 MHz between 40 MHz and 100 MHz, then reports every 20 MHz between 100 MHz and 400 MHz.
This ensures your customers have relevant data for any output frequency they need.
How to get started
Register

with the JitterLabs app.
For new organizations,

select a subscription

plan (Free or Premium).
Follow instructions to

enroll as a member

in a registered organization.

Submit a device

for testing by selecting from the app's main menu, Account > Request For Test Form, and follow instructions. When testing completes, you'll receive notification that a Test Report is available for your organization's eyes only.
Login to the app

review and run analyses

on your Test Report.
(optional) Change the Test Report's permissions to

share

it with partners and customers.

Export test data or analysis results

to other applications (e.g. Excel), or as custom PDF reports.
Generate official

Compliance Statements

from specifications in the library and optionally share them, either online or as PDF reports.

Discover additional features

by reviewing help documents and videos.