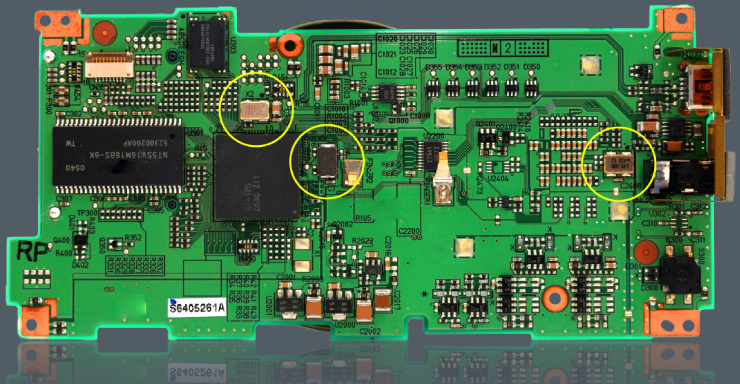 System Vendors
Consumer • Military • Communications • Medical • Wireless • RF/Microwave • etc.
Create your own standards for clock performance, then verify compliance.
Whether you need a high-precision clock source or simply one that's "good enough," use our service to evaluate and select the right parts for new designs, with minimal effort. We'll help you reduce development time and expense, minimize failures in the field, and reduce BOM costs.
Set a standard. Verify compliance. Focus more time on your core business.
What can I do with the JitterLabs app?
Create a specification defining performance requirements for clock and timing sources.
Share your specification with suppliers so they can recommend compliant devices.
Or, review the Test Report library for devices to analyze yourself.
If you can't find what you're looking for in the library, contact us or your suppliers to request Test Reports be created.
If needed, request and obtain permission to access Test Reports owned by others.
Apply your specification to Test Reports to determine compliance.
Compare performance of different products, apples-to-apples.
Create PDF reports for management and procurement teams to drive decisions.
Use compliance results as part of your internal business process to qualify timing devices.
Protect your content by configuring security features, such as blacklisting your competitors.
And more...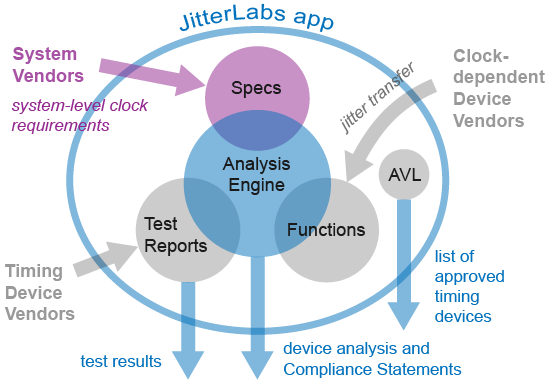 Compare performance, apples-to-apples
Our service is designed from the ground-up to easily compare device performance, apples-to-apples. We use a consistent methodology to derive results from our independent test data. And, we document our test procedures and post-processing steps so you can easily understand and use the data we provide. Still have questions? Contact us anytime, we're here to help.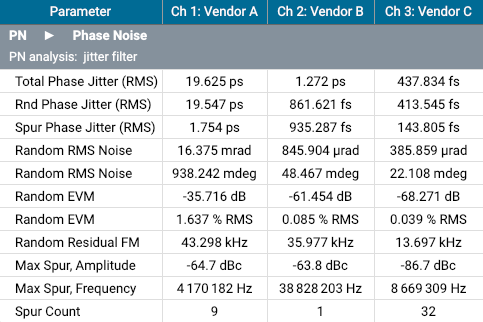 Be your own standard
The traditional approach to selecting products is to compare your system's requirements with timing-device data sheet specifications. We think the reverse makes more sense — verifying a device's performance complies with your system's specifications.
This places you in the driver's seat, because it requires manufacturers to show compliance to your specifications, rather than the other way around.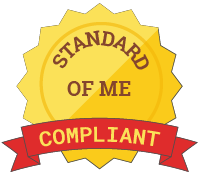 Due to the huge number of timing devices and applications they serve, there hasn't been a way to automate this on a large scale, until now. Using our service, any business can create a specification for their system or product, and evaluate it to any timing device having a Test Report.
The process is simple: create a specification, apply it to one or more Test Reports, compare results, then select the right product for your design. And it's all done online, quick and easy.
Streamline your evaluation process by requesting Test Reports from suppliers today.
Create custom specifications
Create a specification in the JitterLabs app to capture system-level requirements for clock and timing sources.
Then, apply it to Test Reports to determine compliance. Or, share your specification with suppliers so they can recommend compliant devices.
Specifications can be created from a wide variety of test metrics, as shown in the following drop-down lists.
or, Apply specifications shared by others
Specifications written by the community are stored in a Specification Library. When you create a specification, your organization owns it, and can share share it (or not) with other organizations that you choose. Sharing a specification is a great way to establish technical leadership in the community. Many clock/timing specifications already exist for various products and industry standards, including the following from JitterLabs.
---
100GBASE-KR4/CR4/KP4/LR4/ER4/CR10/SR10
40GBASE-CR4/SR4/FR/KR4/LR4/SR4
10GBASE-CX4/DR/KX4/LRM/LX4/PR/PRX/SR/LR/ER/SW/LW/EW/T
1000BASE-KX/PX/BX10/LX10
100BASE-BX10/LX10
XLAUI/CAUI/XAUI
XLPPI/CPPI/nPPI
IEEE 802.1AS-2011
FC-PI-6 (32G/128G)
FC-PI-5 (4G/8G/16G)
SFF-8431 (SFP+)
INF-8077i (XFP)
CEI-28G-SR/MR/VSR
CEI-25G-LR
CEI-11G-SR/MR/LR
CEI-6G-SR/LR
Stratix V
Cyclone V
Arria 10
Virtex UltraScale/UltraScale+
Kintex UltraScale/UltraScale+
SONET (OC-48/192/768)
USB 3.1
SMPTE (259M/292M/424M)
DVB-S2X (DTH/VSAT)
DOCSIS 3.1
IESS (308/309)
AES-12id-r2011
JESD204B (SxI5/6G/11G)
...
---
Applying an existing specification to Test Reports to determine compliance is an easy way to compare device performance, apples-to-apples. Want to change the tests or limits in a specification? Feel free to copy and modify any publicly shared specification owned by JitterLabs. For other organizations, you just need to obtain their permission first.
Oh, and a function library exists as well, with all the same features.
Simplify internal qualifications
Integrate our service with your internal business process for qualifying timing devices. Our service provides a consistent, reliable, and transparent methodology that can be adopted across your entire organization.
You can (1) create specifications for system-level timing requirements and request suppliers to show compliance, and/or (2) request that clock-dependent device vendors create specifications for their own products and share them with you to help you select compliant timing products.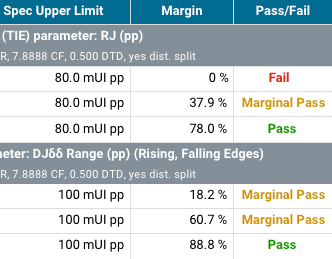 For example, the IEEE-100GBASE-KR4/CR4 specification shows how much margin timing devices provide to the high-speed serial-data jitter requirements of 100GBASE-KR4/CR4. Similarly, the US-GTY-CPLL-REFCLK-60-234M specification captures Xilinx FPGA UltraScale and UltraScale+ CPLL reference-clock data-sheet requirements for GTY transceivers, which may be used to build 100GBASE-KR4/CR4 systems.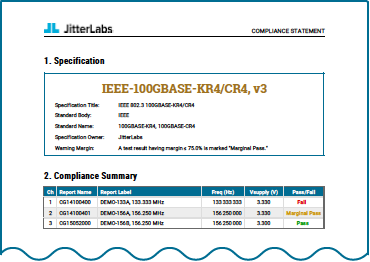 IEEE-100GBASE-KR4/CR4
(system-level spec)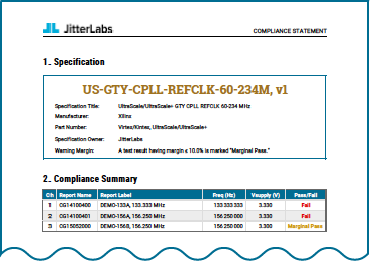 Xilinx UltraScale/UtraScale+
(chip-level spec)
You can evaluate timing devices to both chip- and system-level requirements, and select a compliant part to ensure first-pass design success.
Analyze the entire signal path
Analyze the clock jitter that your system observes by correctly filtering it as it passes through the system. First, request that your suppliers save jitter-transfer models of their products in the Function Library and share them with your organization. Then, when you create or apply a system-level specification, retrieve their functions (e.g. H1, H2, or H3) to accurately model your system. Use analysis results to select a suitable timing device with the desired margin for your system.

Communicate technical requirements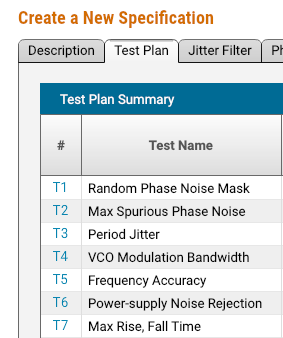 Create specifications that define the performance you require from timing devices. Then share them with your suppliers so they can evaluate their portfolios and recommend compliant products.
Or, share specifications to help suppliers define new products.
How to get started
Register

with the JitterLabs app.
For new organizations,

select a subscription

plan (Free or Premium).
Follow instructions to

enroll as a member

in a registered organization.
Login to the app to

review available Test Reports, specifications and functions

.
If needed, contact suppliers or JitterLabs to

request Test Reports

be created for interested timing devices not yet in the application.

Select Test Reports

to analyze.
If needed,

create specifications

for your work and optionally share them with others.
Apply specifications to Test Reports to create official

Compliance Statements

.

Export test data or analysis results

to other applications (e.g. Excel), or as custom PDF reports.

Discover additional features

by reviewing help documents and videos.