Introducing the JitterLabs App
We make it easy for businesses to promote, evaluate and select timing devices for new designs. Our solution uses independent test data and shared content to provide more relevant, accurate, and timely results than traditionally possible. By integrating these features into an online platform, we're able to provide simpler, more efficient workflows for suppliers, partners, and customers to fulfill each other's needs.
This platform, the JitterLabs app, is our primary vehical for delivering services. It runs in a browser, and is really easy to use. Streamline your evaluation process from weeks to hours or even minutes, while achieving more accurate and reliable results for less cost. The following is a brief overview of our packaged test service delivered via the JitterLabs app.
JitterLabs performs independent testing, hosts content, and continuously develops the JitterLabs app based on user feedback.
Timing device vendors and other businesses submit products for testing, which we summarize as digital Test Reports.
System vendors enter specifications that capture their systems' performance requirements for timing devices.
Clock-dependent device vendors enter specifications that capture their products' input-clock requirements. They also enter jitter transfer functions (when appropriate) to describe how their products filter clock jitter.
Businesses can share their content with other businesses.
Businesses can evaluate Test Reports against specifications to generate Compliance Statements.
System and clock-dependent device vendors can use these statements along with other test results to qualify timing devices, place them on approved vendor lists (AVLs), and share these lists with customers.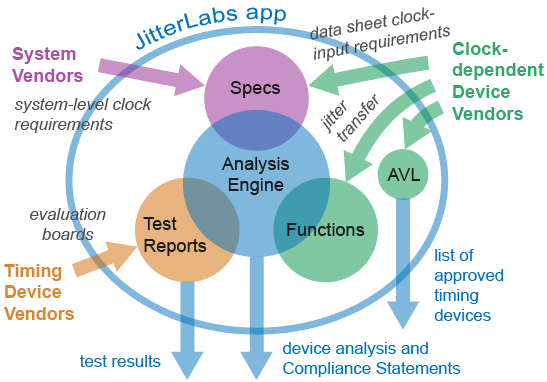 Each Test Report is a fixed fee. Any business that purchases a Test Report owns it, and controls access to it.

Any business entering content into the JitterLabs app, such as functions or specifications, owns it, and controls access to it.

Businesses subscribe to the JitterLabs app by purchasing annual licenses. A Free Plan is also available with many of the same features.
Share Content for Mutual Benefit
System and clock-dependent device vendors can share specifications to communicate technical requirements with timing device vendors for them to recommend (or define future) compliant products.
Timing device vendors can share Test Reports so their products can be evaluated for new designs, or selected for placement on AVLs.
Clock-dependent device vendors can evaluate Test Reports to place on their AVLs, and share their AVLs with system vendors.
Clock-dependent device vendors can share functions with system vendors describing their products' jitter filtering characteristics, so system vendors can more accurately analyze timing devices for their systems.
Learn More
Select a link below to explore additional benefits.